Welcome to our Class page! If this is your first visit, click on the area for "First Time Visitors" to find your way. We are having so much fun, reconnecting, reminiscing, and making new friends...jump right in!
We have a huge celebration of our 50th Reunion in August...click on the link and reserve your spot before July 1...you will be glad you did.
ANNOUNCEMENTS
It has been overwhelming to see the donations pour in for the Class Memorial Tree and Bench. You have been so generous!
We are hoping to have our final selections made and approved within the next few days. Our goal is to have this purchased, planted, and ready to go so that everyone can see it in August when visiting. We will need to close donations shortly, so if you want to join in, please click on the donation button right here on the home page. The quality and size of the tree selected depends on the total that we have to allocate. Thank you so much!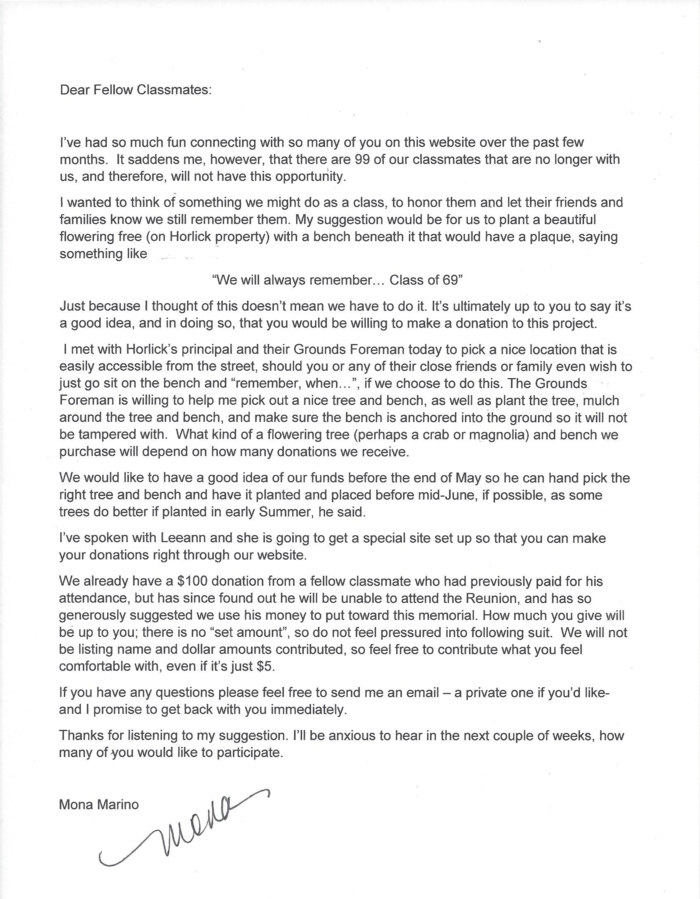 LIGHTHOUSE TOUR
Private Lighthouse Tour has just been added to our optional events! If you have already registered for the reunion and are interested in adding this, you can add this to your previous registration. SPACE IS LIMITED TO 15 PEOPLE. We will have the option of adding another tour at 4 PM if this tour fills. Grab your spot today if you are interested! The Reunion page has details regarding what to expect, what to wear, etc.
TENNIS, ANYONE?
Doubles tennis for the first 16 to register. Ali Cordova Riccio has generously offered to provide balls, water, and courts at Meadowbrook Country Club, immediately following the school tour at Horlick. (Estimated start time for tennis, 11:00am.)
Cocktails or lunch available for cash.
Contact Ali directly at ali_riccio@yahoo.com to register.
Thank you, Ali, for organizing such a fun event!